Remember how I loved Felicidade at the Time Out Market in Lisbon? This recipe for Goat Cheese, Rosemary, Honey, and Prosciutto Toasts was inspired by my meal there! It's incredibly easy to prepare, bursting with flavor, and elegant enough for a dinner party. We might have eaten all of the toasts and called it dinner, but you can do those things on a lazy weekend.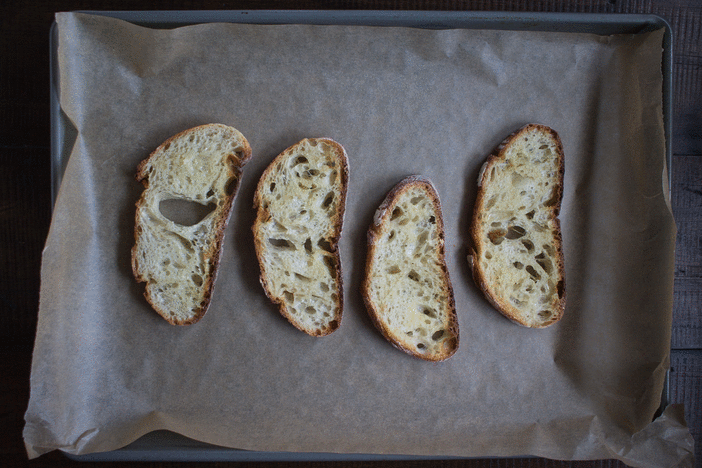 One thing I loved about the Time Out Market is that the kitchens are open, since they are just small food stalls. I grabbed a seat at the counter and chatted with the chef throughout the meal. I had already ordered my main course – an incredible Portuguese style steak – when I saw the goat cheese toast being made. Obviously, I had to try it.
And lucky for me, the chef explained how he made it. He was very specific when it came to the variety of goat cheese he uses. The goat cheese that we are most familiar with in America that comes in a small log or in crumbles is not what you want to use here. That cheese doesn't really melt. You want a goat cheese that melts well.
You want a slice of Bucherondin, a goat cheese that is formed into a large log, with a rind. It's semi soft (kind of like brie) on the outside, and soft more like traditional goat cheese on the inside. If you can't find it, get a goats milk brie. (If you are in Chicago, Plum Market has Bucherondin).
Also, I need to let you know something really important. Bucherondin is insanely delicious. I eat a lot of cheese and this has skyrocketed to the upper tier of my favorite cheeses. Even if you aren't going to make this recipe, go try this cheese!
At Felicidade the goat cheese toast is served without prosciutto. I added it to turn this into a heartier appetizer. You could leave it plain or you could add sliced pears, sliced apples, or toasted walnuts.
One last note – you want to combine the cheese and the rosemary at least 2-3 hours in advance so that the flavors get to mingle.
Goat Cheese, Rosemary, Honey, and Prosciutto Toasts inspired by Lisbon
---
Yields 2-4
2 hr, 15 Prep Time
5 minCook Time
2 hr, 20 Total Time
Ingredients
1/2 cup of Bucherondin Goat Cheese
1 tablespoon of Finely Chopped Rosemary
4 slices of Rustic Bread
1 tablespoon Butter
1 clove of Garlic
2 slices of Prosciutto
2 tablespoons of Honey
Instructions
If there are any funkier looking bits of rind on that cheese, trim them off. Then use your hands to crumble the cheese and place in a container that has a lid. Add the rosemary, place the lid on the container, and shake to combine. Place in the fridge for at least 2-3 hours before preparing the toast.
After letting the cheese and rosemary mingle, get to work on the toasts. First you want to toast the bread on a low setting - so that it is toasted but not browned yet.
As soon as the slices of bread are toasted, spread butter on top and then rub the clove of garlic over the butter. This gives the toast a garlic flavor. I lightly rubbed the garlic over the surface of the bread, using about half of the clove.
Arrange the slices of toast on a parchment lined baking sheet. Then spoon the rosemary goat cheese crumbles on top. Add a half slice of prosciutto on top of the cheese.
Place the toasts in the oven on an upper rack under the broil setting. Keep a close eye on the toasts, they will be ready once the cheese is melted and slightly browned. This will take about 3 minutes.
Lastly, drizzle honey over the toasts and then cut them into pieces.
7.8.1.2
290
https://thekittchen.com/goat-cheese-rosemary-honey-prosciutto-toasts-inspired-lisbon/
Want to save this recipe for later? Here is an image for you to pin!