Looking for a beautiful main dish to serve on Christmas day? This Beef Tenderloin Wrapped in Pastry is a showstopping entree that is fitting for a special occasion. And I promise that it's easier to prepare than you might expect.
The active preparation time for this recipe is only 20 minutes. First, you saute some mushrooms and shallots with red wine and cream to create a sauce. Next, you quickly sear the beef until browned and wrap it in store-bought puff pastry dough. The final touch is to use a bit of the extra pastry dough and a cookie cutter to add a festive cut out of dough on top. Then you place it in the oven to bake for about an hour. It's a meal that you can quickly prepare so that you can go back to spending time with guests on Christmas Day.
I know that big expensive cuts of meat can seem intimidating, but beef tenderloin is really easy to prepare. If the puff pastry wrap is too much, you can omit it and just make a standard beef tenderloin. If you have an in-oven meat thermometer, this is the time to use it. And if you don't have one, add it to your Christmas wish list. It tracks the temperature of meat as it cooks, and it helps me to get beef cooked to the temperature I want.
I used a 1 1/2 pound cut of beef tenderloin, and it was enough to serve 6. Beef tenderloin is the same cut that filet mignon is cut from, so it's a bit of a splurge, but it's worth it. If you need to serve a bigger crowd you can either buy a larger cut of meat, or you can simply double the recipe making two beef tenderloins. One last note, if you don't see beef tenderloin in the meat case, just ask the butcher, he can cut it for you.
I served this recipe with Garlic and Parmesan Scalloped Potatoes, and that recipe will be hitting the site tomorrow.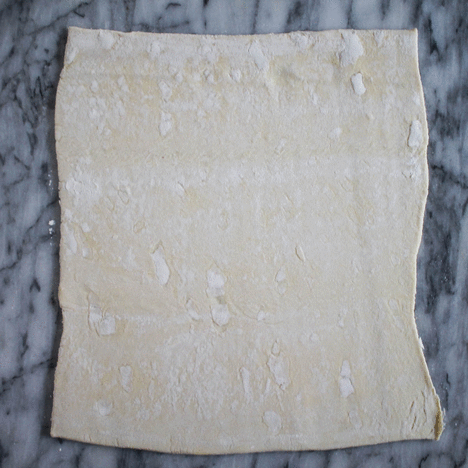 Before we get to the recipe, here are some of my other favorite Christmas dinner recipes.
Beef Tenderloin Wrapped in Pastry
---
15 minPrep Time
1 hrCook Time
1 hr, 15 Total Time
Ingredients
1 1/2 pounds Beef Tenderloin
Salt and Pepper
2 tablespoons Butter
2 cloves Garlic, minced
8 ounces Sliced Baby Bella Mushrooms
2 Shallots, chopped
1/2 cup of Red Wine (I used Barbera)
4 tablespoons Fresh Parsley, chopped
3 tablespoons Cream
1 piece of Puff Pastry, thawed (I use Pepperidge Farm)
Instructions
Dust the beef tenderloin with salt and pepper, and set aside. Heat your oven to 425 degrees.
Melt 1 tablespoon of the butter in a skillet over medium heat. Once melted, add the garlic. Let cook for 2 minutes, then add the mushrooms. Sprinkle about 1/4 teaspoon of salt and pepper over the mushrooms and stir. Cook the mushrooms for 3 minutes, and then add the shallots and cook for another 3 minutes. Then add the red wine and cream to create the sauce. Bring the sauce to a simmer, and let it reduce for 5 minutes, stirring frequently. Pour the mushroom and shallot sauce into a bowl and set aside.
Melt the remaining butter in the same skillet over high heat. Once the butter melts add the beef tenderloin and brown all sides. Then remove from the skillet. Keep any drippings in the skillet.
Roll the puff pastry dough out making it large enough to wrap around the beef. Use a slotted spoon to place half of the mushrooms and shallots in the center of the puff pastry. Place 2 tablespoons of the parsley on top. Then add the beef, and wrap the dough around the beef. Cut off any excess dough. Place the puff pastry-wrapped beef in a roasting pan with the seam of the dough facing down. Roll out any excess dough and use a cookie cutter add a decorative design, attach it with a touch of water.
Insert an in-oven thermometer, and place the beef tenderloin in the oven to bake.
Then finish off the sauce. Pour the remaining mushrooms and shallots and the sauce into skillet with the pan drippings. Stir together, add the remaining parsley, and let simmer and reduce for 5 minutes. Then remove from the heat and heat up once you are ready to serve the beef.
Once the beef reaches 130 degrees, remove it from the oven. It will continue to cook while it rests. Let the beef rest for 15 minutes before slicing and serving with the mushroom and shallot sauce.
7.8.1.2
236
https://thekittchen.com/beef-tenderloin-wrapped-pastry/
The platter is from Nora Fleming and was a gift from my parents.