These snowmen cupcakes can be made from scratch, or you can decorate simple store-bought cupcakes to turn them into snowmen cupcakes. Either way, this dessert will charm guests at any holiday gathering.
How adorable are these snowman cupcakes?! These are a festive wintertime treat to serve at a holiday party. You may have seen snowman cookies and cupcakes online before, but I put effort into sourcing the perfect ingredients to make the snowmen look as perfect as possible.
I love the way these cupcakes turned out, and I am very excited to make them as part of the cooking demonstration that I am hosting at Macy's! Join me at 12pm on December 2nd at Culinary Studio at Macy's on State Street! I will be teaching attendees how to make a mocktail sangria, rosemary, goat cheese, honey, and prosciutto crostini, and roast beef sandwich sliders. Then we will doing a hands on dessert demo where attendees will get to make my Christmas Tree Brownie Bites and these cupcakes! Just in case you aren't in Chicago, I have all the details on how to make these cupcakes below:
Instead of using a marshmallow for the snowman's face, I used a doughnut hole that I sliced in half. The carrot nose is made with a piece of candy corn, the eyes and buttons are mini chocolate chips, the scarf is a gummy belt, the arms are mini pretzel sticks, and the hat is made out of a cookie.
Since I used very specific ingredients to bring these snowmen cupcakes come to life, you might want to buy them on Amazon. Here is a shopping list: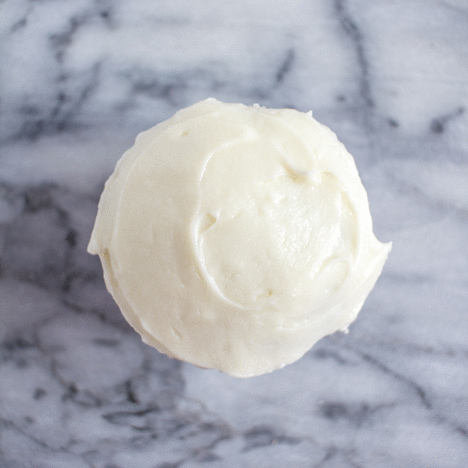 If you want to take a big shortcut to make these cupcakes, you can start with store-bought cupcakes and then just add the decorations! I am pretty sure that any bakery would sell you come extra frosting along with your cupcakes. You can use any flavor of cupcake and any white frosting to make these Snowmen Cupcakes. I used chocolate cupcakes and a cream cheese frosting, but you could use a vanilla buttercream frosting instead.
Even if you aren't a crafty person, you can make these cupcakes. If the snowmen aren't quite perfect, they will just look like melted snowmen!
I used off-brand dark chocolate Oreos for the hats. I split the sandwich cookies in half, used one cookie as the base of the hat, and then rolled up the filling from two of the cookies for the top of the hat. I think that it looks a little better than using a rolo or mini peanut butter cup for the top of the hat.
The hats are the trickiest part of the snowman making process, but I think you can omit the hats. The snowmen are almost just as cute without them.
I recommend making these cupcakes right before serving, otherwise the pretzels and cookie get stale and the candy corn will melt into the frosting.
Save and share this Snowmen Cupcake recipe:
How to make Snowmen Cupcakes:
Snowmen Cupcakes
---
Yields 24 cupcakes
45 minPrep Time
45 minTotal Time
Ingredients
24 Cupcakes
Frosting (I used this Cream Cheese Frosting)
12 Doughnut Holes
24 Gummie Belts
Mini Chocolate Chips
24 Orange and Brown Candy Corns
48 Mini Pretzel Sticks
Oreos with Chocolate Filling
Rolos or Mini Peanut Butter Cups
Instructions
Frost all of the cupcakes. Then slice the doughnut holes in half. Place a half doughnut hole on each cupcake, and then top with frosting.
Next, slice the gummie belts in half from top to bottom and arrange them under to doughnut hole to look like a scarf.
Add eyes and buttons using the mini chocolate chips.
Slice the brown bit off the candy corns so they are all orange and then add them below the eyes, as the carrot nose.
Stick the pretzel sticks into the sides of the cupcakes making arms.
Optional: make the hats. Split two oreos in half, and remove the filling. Break one cookie, so that it has a straight(ish) edge. I found that using my hands yielded better results than using a knife. Stick the cookie into the frosting beside the snowman's head. Next roll up the filling from the two oreos into a ball and press it with your fingers and add it to the base of the hat. Repeat until you have added hats to all of the snowmen.
7.8.1.2
372
https://thekittchen.com/snowmen-cupcakes/
Click here for the cream cheese frosting recipe.
This post was sponsored by Macy's, the opinions expressed are my own.