Roast Beef Sandwich Sliders are a perfect meal to serve at a party!
I am so excited about these Roast Beef Sandwich Sliders! I have taken one of my favorite all-time sandwiches, and turned it into a hearty appetizer to feed a crowd. These sliders are so easy to make – you slice a 12 pack of dinner rolls in half, and basically assemble one giant sandwich, bake it, and then cut it up.
You could use this technique to make any sandwich, but I chose roast beef, caramelized onions, blue cheese, spinach, and mustard. It is a sophisticated flavor combination perfect for a holiday party.
The size of the sliders is just right, one is enough for a snack, and two are almost enough for a meal. I have even heard or people using this sandwich making technique for preparing their packed lunches for the week. This would be a genius time saver if you have kids.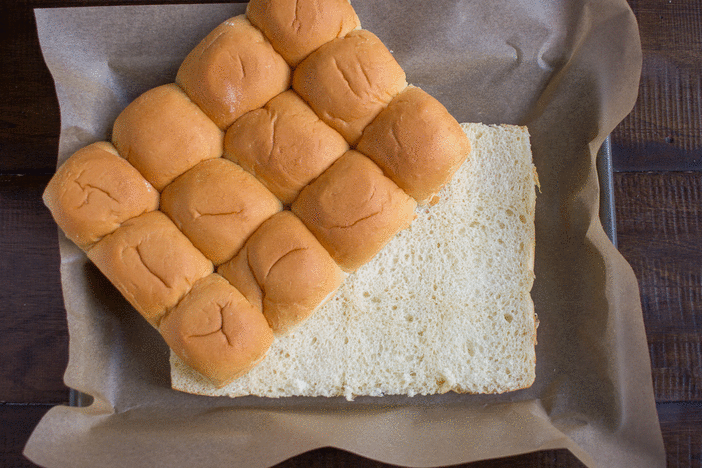 The most time consuming part of this recipe is the process of caramelizing onions. It will take you 30 minutes – and I have a fun hack to share with you! I had found that if you make sure there is enough liquid in the pot, by adding water, you can cook the onions a medium high instead of low. The key it to keep an eye on the pot and to stir frequently.
You could make these roast beef sandwich sliders with either brie, blue cheese, or swiss cheese. I picked blue cheese because I love how it pairs with roast beef, mustard, and caramelized onions. It gives the sandwich such a bold flavor. You can also use any mustard for this recipe. Stone ground is my favorite, but if you decide to go with swiss cheese, you might want to use Dijon mustard. (Does anyone else have about 5 different mustards in their fridge?)
These sandwich sliders can be prepped a few hours in advance and then put in the oven when guests arrive.
Roast Beef Sandwich Sliders
---
Yields 12 sliders
35 minPrep Time
20 minCook Time
55 minTotal Time
Ingredients
2 Large Yellow Onions
¼ cup Olive Oil
about 2 cups of Water
12 Kings Hawaiian Butter Dinner Rolls
½ cup of Stone Ground Mustard
¾ pound Thinly Sliced Roast Beef
1 cup of Baby Spinach
¾ cup Blue Cheese Crumbles
2 tablespoons Melted Butter
Instructions
Slice the onions into thin half round slices. Try to slice them as evenly as possible. Place the sliced onions, ½ cup water, and olive oil in a non-stick pot over medium high heat. Keep your eye on the onions, stirring frequently, and adding more water to the pot as necessary. You can keep the onions over high heat until they are translucent and soft. Then reduce the heat to medium. Continue to add water to the pan to prevent the onions from sticking. Stir frequently. It will take about 30 minutes for the onions to become golden brown.
Heat your oven to 350 degrees.
Without separating the dinner rolls, place them all on a baking sheet. Then use a serrated knife to slice the tops off all of the rolls. Remove the top of the rolls. Spread both halves of the rolls with mustard. Then stack the spinach, half the cheese, the roast beef, the caramelized onions, and the remaining cheese on top of the bottom halves of the rolls. Then stack the tops of the rolls on top, gently pressing them into place.
Brush the top of the rolls with melted butter.
Bake for 20 minutes.
Slice the rolls and serve!
7.8.1.2
377
https://thekittchen.com/roast-beef-sandwich-sliders/
Want to save this Roast Beef Sandwich Sliders recipe for later? Here is an image for you to pin: