That's right. I am combining two of my favorite things in one recipe today. This steak and blue cheese pizza is one of my favorite new recipes. It has all the flavors I love, caramelized onions, spinach, blue cheese, balsamic vinegar, and PRE Brands Sirloin Steak.
The caramelized onions take a bit of time, but they are worth the effort. The sweetness of the onions contrasts beautifully with the blue cheese, steak, and balsamic vinegar. If you are a really pressed for time, quickly sauté the onions until they are soft, and then add them to the pizza. Watch the video above for step by step instructions!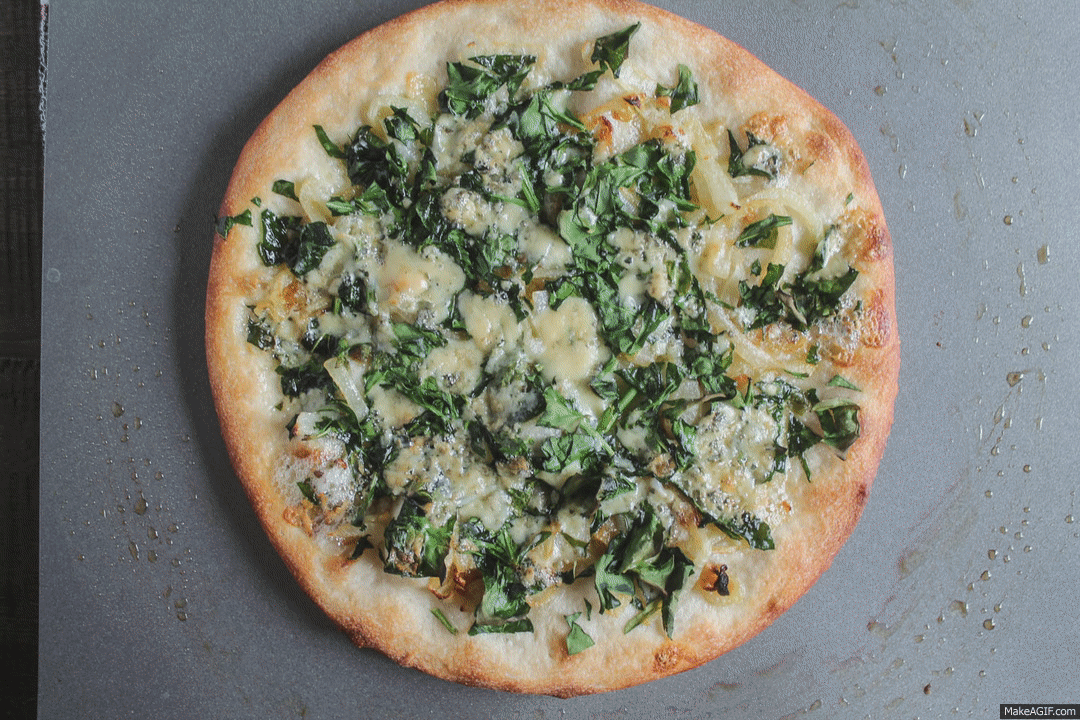 The steak is the centerpiece of the recipe, and I used PRE Brands Sirloin Steak. PRE-Brands sells 100% grass fed beef with no added antibiotics or hormones, that goes through a 15-point Obsessive Pick™ process.
I prepared the steak by seasoning it with a mix of equal parts garlic power, salt, and pepper, and then cooking it in a grill pan seasoned with a touch of butter. You can opt to use a grill instead – whatever is easiest for you.
PRE Brands Sirloin Steak and Blue Cheese Pizza
---
Yields 2
30 minPrep Time
25 minCook Time
55 minTotal Time
Ingredients
1 cup chopped Onion
2 tablespoons Olive Oil
2 teaspoons Balsamic Vinegar
1 cup chopped Spinach
1/4 cup Blue Cheese
2 teaspoons Butter
1 ball of Pizza Dough
1 PRE Brand Sirloin Steak
1/4 teaspoon salt
1/4 teaspoon pepper
1/4 teaspoon garlic powder
Instructions
Start by caramelizing the onion. Heat the olive oil over medium low heat, and add the onion. Let simmer for 25 minutes, until golden brown.
Meanwhile, heat your oven to 400 degrees. Grease a baking sheet with 1 teaspoon of butter. Then stretch the pizza dough to make a 12 inch round pizza.
Spread the caramelized onions evenly over the pizza dough. Then add the spinach and blue cheese on top.
Place in the oven to bake for 25 minutes.
Next mix the salt, pepper, and garlic powder together creating a seasoning for the steak. Pat the steak dry with a paper towel, and then generously sprinkle the seasoning on the steak.
Heat a grill pan over high heat, add the remaining butter, and once it melts add the steak.
For medium rare steak, cook it for 4 minutes per side, and then let it rest for 5 minutes.
Thinly slice the steak, remove the pizza from the oven, top the pizza with the steak, and drizzle balsamic vinegar over.
7.8.1.2
163
https://thekittchen.com/pre-brands-sirloin-steak-blue-cheese-pizza/