Hashbrown quiche is a traditional quiche made with a hashbrown crust instead of a pastry crust. This substitution makes the quiche gluten free, and I love the crispy potatoes more than the pastry crust I have used in my other quiche recipes. You can add any of your favorite cheeses or vegetables to a quiche made with a hashbrown crust. This time I kept things simple and just added asparagus and goat cheese, but mushrooms, spinach, broccoli, cheddar, and mozzarella would all be tasty options. To make a heartier quiche add some crumbled cooked sausage or bacon.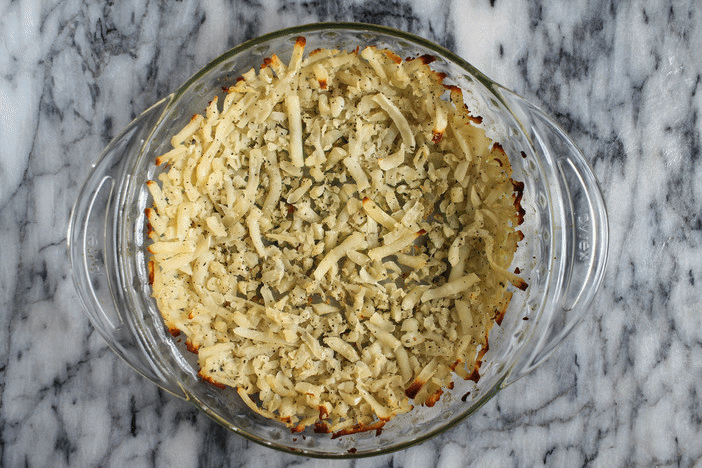 Cheddar cheese would have melted and browned more beautifully than the goat cheese, but my doctor told me to eliminate cow dairy from my diet while I battle some ongoing problems with my sinuses (I have been eating a lot of goat cheese and I miss cow milk cheese desperately).
The potato crust on this quiche reminded me of a Spanish Omelet, and it was much easier to slice than a pastry crust. If you want to make a bigger batch of quiche, you can use a casserole dish instead of a pie pan – it would be a really easy (and delicious) way to feed a crowd.
Did you know that the most popular all time recipes on this site are for quiche? You can learn how to make an Asparagus Mushroom and Cheddar Quiche here, and a Roasted Tomato, Spinach, and Mozzarella Quiche here. And you can swap out the pastry crusts in these recipes for a hashbrown crust.
Hashbrown Quiche
---
Yields 8
15 minPrep Time
1 hr, 15 Cook Time
1 hr, 30 Total Time
Ingredients
1 tablespoon Butter
about 1 1/2 cups Shredded Potato Hashbrowns (I used Garlic Herb flavor)
5 Large Eggs
1/2 cup Whole Milk
1/2 cup Cream
1/2 teaspoon Salt
a dash of Pepper
4 ounces Goat Cheese
Asparagus
Instructions
Heat your oven to 350 degrees. Generously butter a 9 inch pie pan. Pour the hashbrowns into the pie pan and press them into the pan to create a crust.
Bake for 25 minutes - until the hashbrowns just start to brown.
Beat the eggs, milk, cream, salt, and pepper together for 1-2 minutes, until frothy.
Pour the egg mixture into the hashbrown crust.
Arrange the asparagus and goat cheese over the egg mixture.
Bake for 35-45 minutes, until the egg has set.
Turn the heat to broil to brown the top of the quiche.
Serve immediately.
7.8.1.2
172
https://thekittchen.com/hash-brown-quiche/