Grapefruit cocktails have become my go-to summertime drink. They are light, fruity, and refreshing, without being overly sweet. On a recent Friday I tackled the task of creating my own grapefruit cocktail and ended up with this Grapefruit Lime Fizz. It's made with freshly squeezed grapefruit and lime juices, a dash of simple syrup to add sweetness, plus gin and tonic water. It's a slightly sweet and effervescent cocktail, and the perfect way to jump start your weekend.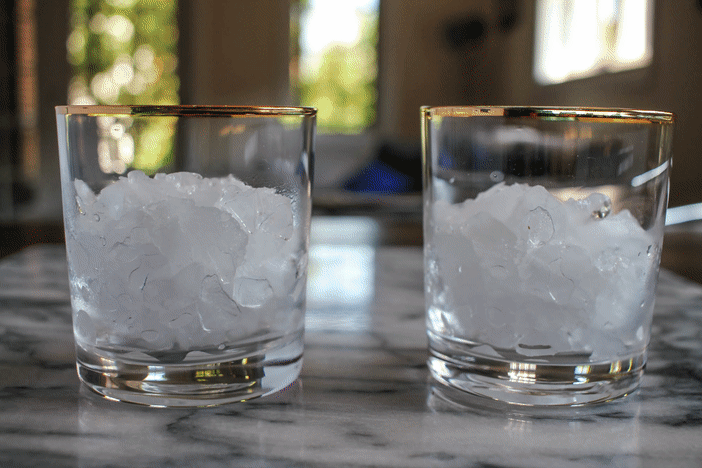 This cocktail can be prepared in just a couple of minutes, and it uses few ingredients – some of which you might already have at home. While I used fresh grapefruit and lime, you could by grapefruit and lime juice to create an easy timesaving shortcut. I made cocktails for two, you could adjust this recipe to make it for a crowd. It's the type of cocktail that can be made ahead of time, just add the ice at the last minute before guests arrive. The pretty pink color would make it a fun cocktail to serve at a bridal shower, and it would look beautiful displayed in a drink dispenser.
I love how the sweetness balances with the bitter and sour flavors of the grapefruit. And I feel like since it does have fresh fruit juice, it's a little healthier than other cocktails… right?
Grapefruit Lime Fizz
---
Yields 2
5 minPrep Time
5 minTotal Time
Ingredients
1/2 cup Grapefruit Juice
2 tablespoons Lime Juice
1/3 cup Gin
2 tablespoons Simple Syrup
3/4 Tonic Water
Crushed Ice
Instructions
Slices of Lime and Grapefruit for garnish
Fill two glasses 2/3 full with crushed ice. Pour the tonic water over the ice.
Pour the grapefruit juice, lime juice, gin, and simple syrup into a cocktail shaker. Add 1/2 cup of ice, place the lid on the shaker and shake for 30 seconds.
Pour the grapefruit mixture over the tonic water, stir, and serve.
7.8.1.2
178
https://thekittchen.com/grapefruit-lime-fizz/