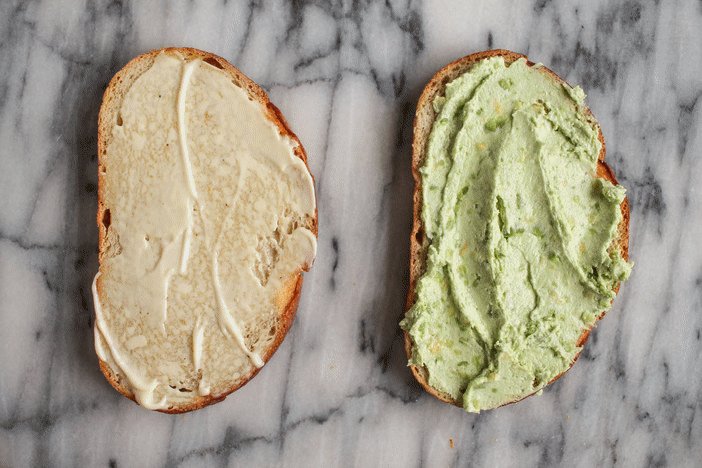 There is nothing better than a BLT (bacon, lettuce, and tomato sandwich) made with fresh juicy tomatoes. BLTs remind me of summers in Maine as a child. My father would grow tomatoes in his garden and once they were plump and ready he would pick them and proudly make us BLTs. I created this sandwich with my father in mind. I pondered what I could do to improve upon the already perfect concept of a BLT. I wanted to create a sandwich that would impress my Dad.
The obvious answer was to add cheese. Cheese and bacon can make pretty much anything better. The burrata and avocado BLT I had in Sausalito was incredible – but I didn't want to just take their idea. Instead I decided to mix goat cheese and avocado together (partially because my doctor told me to avoid cow dairy) to make a spread. Instead of toast, I used garlic bread to make the sandwich.
The end result is a hearty BLT on garlic bread with Sir Kensington's Mayonnaise and an avocado goat cheese spread. The heft of the goat cheese and avocado spread really helps to hold this sandwich together, while the garlic lends an extra layer of flavor. This sandwich is an easy upgrade to the BLT I grew up with – and it doesn't require much extra time or effort. The garlic bread can be made in the oven alongside the bacon, and the avocado goat cheese spread is whipped together in just moments.
Garlic Avocado Goat Cheese BLT
---
Yields 1
20 minCook Time
20 minTotal Time
Ingredients
3 slices of Bacon
1 tablespoon Butter (at room temperature)
2 cloves of Garlic
2 slices of Bread (I used Sourdough)
2 tablespoons Goat Cheese
about 1/6 of an Avocado
2 leaves of Boston Lettuce
1 tablespoon Mayonnaise
slices of Heirloom Tomato
Instructions
Heat your oven to 400 degrees. Use a knife or kitchen sheers to cut the bacon in half (it just fits better on the sandwich this way). Line a baking sheet with foil, and arrange the bacon in a single layer. Bake for 10-14 minutes – until the bacon reaches the level of doneness you desire.
Meanwhile, get to work on preparing the garlic bread. Use a garlic press to crush the garlic and stir it into the butter. Butter one side of each slice of bread. Place buttered side up on a baking sheet, and toast the bread along side the bacon. This will take about 5 minutes.
Next stir the goat cheese and avocado together.
Once the bread is toasted and the bacon is crisp, it's time to assemble your BLT!
Place your toast garlic side facing down on a work surface. Spread the mayonnaise on one slice of bread and the avocado goat cheese spread on the other.
Layer the bacon, tomato, and lettuce on the bread, and stack one slice of bread on top of the other. Cut in half and enjoy.
7.8.1.2
173
https://thekittchen.com/garlic-avocado-goat-cheese-blt/