On a recent lazy Sunday afternoon I threw together a pair of savory Asparagus and Mushroom Tarts. I used store-bought pastry dough, cut it in half, and then layered it with cheese and sautéed shallots, and topped one with sautéed mushrooms and the other with asparagus. The results were delicious and the total preparation time was under 30 minutes. We ate this for dinner, but it is probably more fitting as an appetizer.
I used different cheeses to make each tart. I had attended an event hosted by the French Dairy Board that week, and they sent me home with a considerable amount of cheese. I paired the mushrooms with the Comté, a raw milk cheese produced in Eastern France known for it's creamy and nutty flavor.
I used Reblochon, a semi-soft cheese cheese made from raw milk with a mild taste and a strong smell for the asparagus tart. If you can't find these specific cheeses, you could use Gruyere, mild Swiss, or Brie.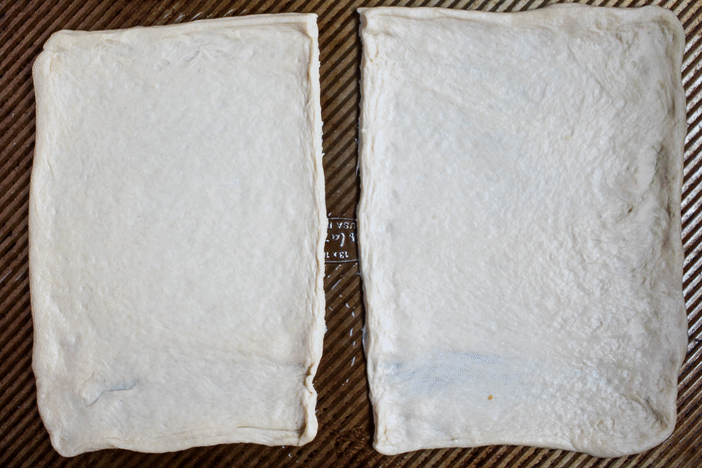 I think shallots are an under appreciated ingredient. They seem to magically combine the flavors of onions and garlic without being so strong that the taste overpowers your dish. They are an essential ingredient that that gives life to these tarts. The mushroom tart had a hearty meatiness to it that fills you up, while the asparagus tart had a more delicate and fresh flavor. If you happen to have any leftovers, they would be excellent served for breakfast with a runny egg on top.
Before we get to the recipe, I have an important note for you, when buying the asparagus, pick thin asparagus. It cooked perfectly, while thicker asparagus might not have enough time to get tender before the dough starts burning.
Asparagus and Mushroom Tarts
---
Yields 4-6
15 minPrep Time
15 minCook Time
30 minTotal Time
Ingredients
4 ounces Sliced Mushrooms
2 Shallots
2 tablespoons Olive Oil
1 tube of Pillsbury Crescent Dough
a small bundle of thin Asparagus
1 cup of Cheese
Salt
Pepper
Thyme
Tarragon
Instructions
Heat your oven to 350 degrees.
Slice the shallot into thin slices. Heat 1 tablespoon olive oil in a small skillet and sauté the sliced shallots until they are golden brown.
Next, using the same skillet, heat the remaining olive oil. Add the mushrooms, season with salt and pepper, and toss to mix. Cook the mushrooms until they have browned, this will take about 8 minutes.
Remove the dough from the packaging and spread it out on a baking sheet. Cut it in half, and separate the halves by one inch.
Spread a layer of cheese on each piece of dough. Next add a layer of the sautéed shallots. Add a layer of mushrooms on one piece of dough and a layer of asparagus on the other. Top with a sprinkle of salt, pepper, thyme, and tarragon.
Bake for 15 minutes, or until the dough is golden brown.
7.8.1.2
199
https://thekittchen.com/asparagus-mushroom-tarts/