Taco pie is one of my favorite quick dinner recipes. I had made taco pie with beef before, but recently I tried making it with chicken. This Southwestern Chicken Taco Pie is loaded with flavor and vegetables, and it's the type of recipe you can easily change to make your own by adding your favorite vegetables and salsa.
This recipe requires just 15 minutes of active preparation time, and you could make a double batch (using two pie pans to make two taco pies). As you can see, the ingredients are items you might already have at home.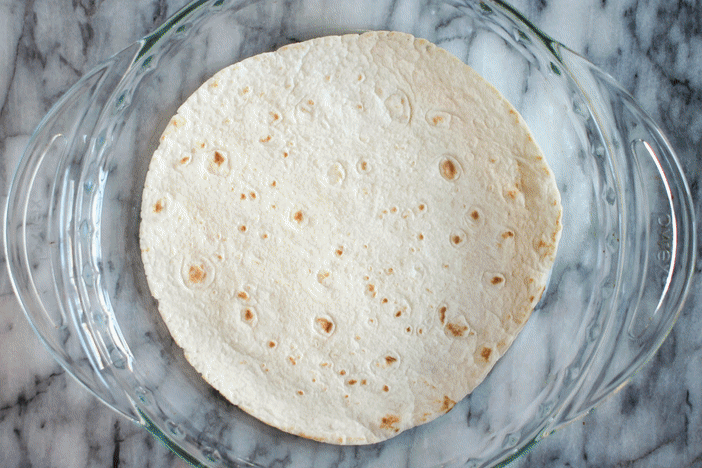 If you want to understand just how easy this recipe is, you can just watch this little gif. The only cooking involved in this recipe is cooking the chicken, everything else is just simple assembly of ingredients. If you want to skip the step of cooking the chicken, used shredded rotisserie chicken soaked in 1/2 of a cup of salsa instead.
Southwestern Chicken Taco Pie
---
Yields 4
15 minPrep Time
30 minCook Time
45 minTotal Time
Ingredients
2 Chicken Breasts
1/2 of a White Onion
1 Packet Taco Spice Mix
1 cup Chicken Broth
4 (8 inch) Flour Tortillas
1 (16 ounce) can of Refried Black Beans
1 (8.75 ounce) can of Whole Kernel Corn
1/2 cup Salsa (of your choosing)
1 cup Queso Fresco
Sour Cream
Avocado
(an 8 or 9 inch pie pan)
Instructions
Heat your oven to 350 degrees. Then dice the chicken breasts, and chop the onion. Mix the chicken broth and seasoning packet together creating a sauce. Pour the sauce into a skillet over medium heat, and once it comes to a bubble, add the chicken and onions. Let the chicken and onion cook at a simmer for 10 minutes, stirring frequently.
Next assemble the taco pie. Start by placing a tortilla in the bottom of a pie pan. Spread half of the refried beans on top. Add another tortilla on top.
Then pour the corn over the tortilla, and spread it into an even layer. Add the chicken and onions on top of the corn, straining out any excess sauce. Add a tortilla on top.
Spread the remaining refried beans over the tortilla. Then top with the last tortilla.
Pour salsa over, and top with the cheese. Place the taco pie in the oven to bake for 30 minutes.
Top the warm taco pie with sour cream and sliced avocado and serve.
7.8.1.2
182
https://thekittchen.com/southwestern-chicken-taco-pie/