I love an easy recipe that can feed a lot of people. This Easy Italian Chicken and Veggie Bake is made with chicken breasts that are baked low and slow with fresh spinach and mushrooms, drowned in vodka sauce, and topped with a mozzarella. The active preparation time is just 15 minutes, and this is the type of recipe that you can easily cut in half or double depending on how many people you need to feed.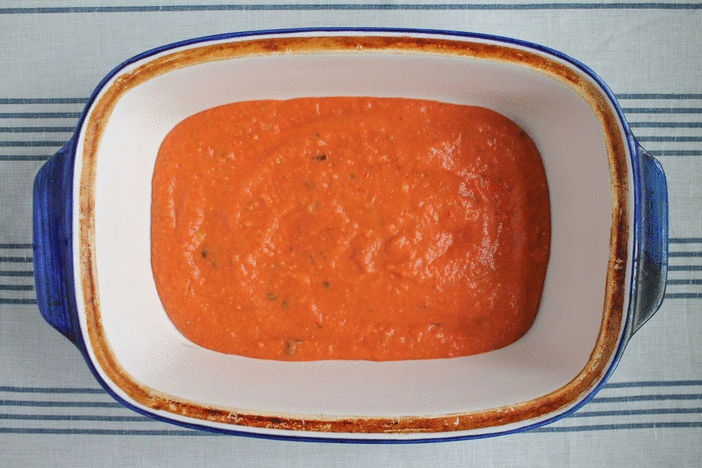 To prepare this meal I quickly seared the chicken in a skillet over high heat just until the chicken was browned. I cooked 2 pounds of chicken, so I split it into two batches, and it took just about 15 minutes to sear. This process of searing the chicken and then cooking it low and slow results in really tender and juicy chicken. After the chicken was browned, I quickly assembled the chicken and veggie bake in a casserole dish and placed it in the oven to bake for an hour.
Once the chicken was done baking I quickly cooked up some fresh linguine to serve on the side. At the same time, I turned on the broiler for a minute just to brown the mozzarella on the top of the casserole. Browning the cheese adds a little extra flavor to the meal.
I have been liking vodka sauce lately, so I used that, but you can use your favorite tomato sauce instead. I added mushrooms and spinach because they are my favorite vegetables, but you could try adding onions, bell peppers, zucchini, or broccoli. I think you could even substitute the chicken with pork.
I like to make this type of meal on a Sunday. I make a big batch so that we have enough leftovers for another meal going into the new week. It's a nice way to feel like you ahead of the game. When you have a meal ready to go it frees up time to hit the gym… or watch an extra episode of The Crown.
Easy Italian Chicken and Veggie Bake
---
Yields 6
15 minPrep Time
1 hrCook Time
1 hr, 15 Total Time
Ingredients
1 tablespoon Butter
2 pounds of Chicken Breasts
Salt and Pepper
2 cups of Fresh Baby Spinach
2 cups of Sliced Mushrooms
2 jars of Vodka Sauce (or your favorite tomato sauce)
1 large ball of Fresh Mozzarella
Instructions
Heat your oven to 275 degrees. Pour enough tomato sauce into a casserole to coat the bottom of the dish. Add half of the mushrooms and spinach on top.
Then generously dust the chicken with salt and pepper. Heat a skillet over medium-high heat, and melt half of the butter in the skillet. Add the chicken, being careful not to overcrowd the pan. Cook each side of the chicken for about 2 minutes, until brown. Add the remaining butter as necessary. Place the chicken in the casserole dish.
Pour the rest of the vegetables over the chicken. Then pour enough tomato sauce over the chicken and vegetables to cover them. Top with slices of mozzarella.
Bake for 1 hour, and then finish by turning up the heat to broil (make sure your dish can handle this) just to brown the cheese.
Serve with pasta.
7.8.1.2
249
https://thekittchen.com/easy-italian-chicken-and-veggie-bake/