This recipe is one of the easiest and most delicious ways to make brunch for the whole family.
Breakfast doesn't get much easier than this simple recipe for a Breakfast Bread Boat. A loaf of bread is hollowed out and filled with eggs, vegetables, and cheese, and topped with crispy prosciutto. It takes just moments of preparation time, and it can feed 3-5 people. It would make a wonderful addition to a brunch, or a fun casual meal at home.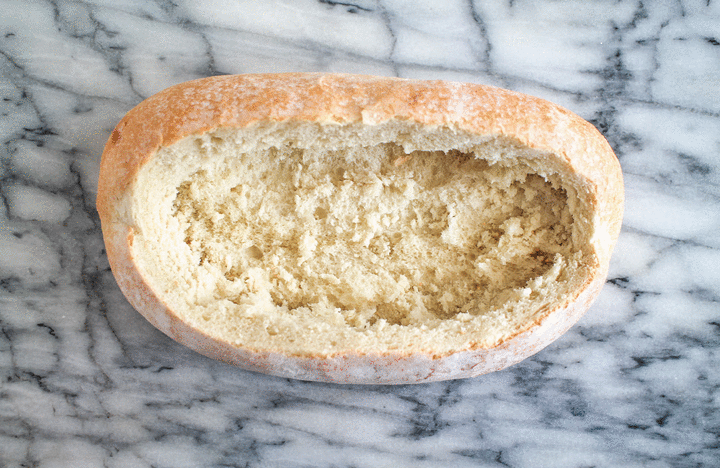 The inspiration for this recipe came from a Tasty video. Their recipe videos tend to oversimplify things, and the experience of trying their recipes on your own can sometimes amount to a gigantic fail (I am looking at you Torpedo Potatoes). I was happy that this recipe proved to be a success. The preparation time is just about 15 minutes, and you could easily double the recipe to make two breakfast bread boats at once. I love the idea of making one with veggies and another with meat.
This breakfast bread boat is filled with sweet peppers, cheddar, and crispy prosciutto. Any cheese or veggies in your fridge would work. Sausage, ham, bacon, and prosciutto are all great additions too – just make sure you cook the meat first. You might even want to buy rolls instead of a loaf of bread so that you can make individual breakfast bread boats!
Adding a touch of cream cheese to the egg mixture gives them a velvety texture and a richer cheesy flavor. It's an easy little trick that makes the egg filling so much better.
The bread is a bit of a variable in this recipe. I bought a standard sized loaf of Italian bread. Every loaf of bread is a little different, and this will impact how much egg will fit inside the bread boat. You might need to adjust things a little. The cook time will vary based on the size and shape of the bread, check the bread boat every 10 minutes or so to make sure you don't overcook it.
Breakfast Bread Boat
Total Time
1
hour
5
minutes
Ingredients
1

Loaf of Italian Bread

4

Eggs

1/3

cup

Cream

1/3

cup

Milk

1/4

cup

Cream Cheese

2

cloves

of Garlic

chopped or crushed

1/2

teaspoon

Salt

1/4

teaspoon

Pepper

1

cup

sliced Sweet Peppers

1

cup

Shredded Cheddar Cheese

2

slices

of Prosciutto or Bacon
Instructions
Heat your oven to 350 degrees. Place the prosciutto or bacon on a parchment lined baking sheet and let it bake in the oven for 10 minutes. Then let it cool before crumbling it.

While the meat is cooking, prepare the bread boat. Use a steak knife to cut the top of the bread, hollowing out the loaf of bread. Take the middle out, leaving the sides intact.

Then use an electric mixer to mix the eggs, cream, milk, cream cheese, garlic, salt, and pepper together. Start on a slow speed and then once the eggs are mixed in, increase the speed to high, letting the mixture get frothy.

Place the sliced sweet peppers and cheddar cheese inside the bread. Pour the egg mixture over. Top with the crumbled prosciutto (or bacon).

Place the bread boat on a parchment lined baking sheet and let it bake for 40-50 minutes, until the egg is solid.

Slice and serve.
Want to save this recipe for later? Here is an image for you to pin: